Wildgerlostal valley
- Fascinating high valley with alpine summits, glaciers and beautiful lakes -
The Wildgerlostal valley is a beautiful high valley between Salzburg and Tyrol in Krimml Waterfall village. Because of it´s beautiful alpine pastures, the spring-fresh water in Durlassboden Reservoir and the wonderful mountain panorama of the Reichenspitzgruppe, the Wildgerlostal valley is offering adventure and experiences.
The Durlassboden lake is a great spot for anglers. Mountain bikers can cycle on an alpine road along the Durlassboden lake and alpine pastures to the Finkau inn.
Trip ideas - pretty places of Wildgerlostal valley
Destination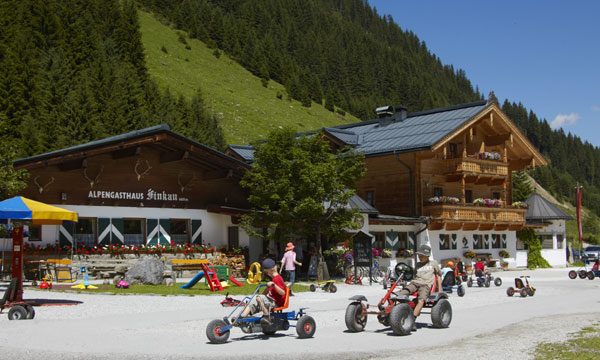 Finkau
- 1413 m above sealevel -
At an altitude of 1400 m above sealevel you can expect a sense for hospitality and traditional values, and an intimate contact to things - that is the Finkau alpine inn. This alpine inn is an ideal starting point for hiking, mountain-biking, walking and it is also a beautiful place to relax and have a good time in the Hohe Tauern National Parc Region.
Families with children like the big adventure playground and the little children´s farm.
If you want to comfortably hike through varied nature you can walk around Finkau Lake, to Finkau chaple or Trisslalm. You can go there by your own car until the alpine inn Alpengasthof Finkau. If you want to start a hiking trail or mountain tour from there, you can park your car at the big parking lot at alpine inn Finkau, which you have to pay a commission.
Mountain hut
Zittauer hut
- 2328 m above sealevel -
Beautiful situated, high alpine refuge ( Österreichischer Alpenverein) at the lower Wildgerlos lake. Starting point for more challenging and sometimes even require mountaineering experience in the Hohe Tauern National Parc (Wildgerlosspitze, 3.280m, Reichenspitze, 3.302m, Roßkopf, 2.844m, Gabler, 3.260m, Wildkarspitze, 3.076m).
The Kogler family is pleased to see you!
Walking distance: from alpine inn Alpengasthof Finkau - Trisslalm - Zittauerhütte about 3 hours.
Destination
Leitenkamer gorge
- 1540 m above sealevel -
Leitenkamer gorge - the ravine in the Wildgerlos Valley in the Austrian Alps near the town of Krimml is a nationally designated area since 2002.
The walking distance from Finkau alpine inn to Leitenkamer gorge is about 30 minutes.
Destination
Trisslalm
- 1583 m above sealevel -
Area of outstanding natural beauty and little rustic alpine snack bar, which is reachable on the way to Leitenkamer gorge.
Thewalking distance from Finkau alpine inn in Wildgerlostal Valley to Trisslalm is about 35 minutes.