Krimml hikes
Favourite hikes in Krimml Wasserfalldorf
"Berge sind stille Meister und machen schweigsame Schüler." Johann Wolfgang von Goethe
Hiking in Krimml is exploring nature and culture, experiencing adventures, collecting experiences and living intensely.
Alpine peaks, meadows and wilderness around Krimml are awaiting you.
Krimml Achental valley hikes
On the trail of tradition and history
Krimml Achental valley hikes
The feeling of being in the alpine pastures of Krimml Achen Valley is more beautiful than can be put in words. Hiking in spring, summer and fall is a treasure hunt of wildflowers, forests, mountains and glaciers.
Wildgerlostal valley hikes
with picture perfect mountain views
Wildgerlostal valley hikes
Das romantische Wildgerlostal ist ein wunderschön gelegenes Hochtal an der Grenze zwischen dem Land Salzburg und Tirol. Aufgrund der sanften Steigung bis in die Finkau, der idyllischen Lage, dem glitzernden Durlassboden-Speichersee und der beeindruckenden, vergletscherten Reichenspitzgruppe ist das Almgebiet ein wunderbares Ausflugsziel für Jung und Alt, ein schönes Wandergebiet für Naturliebhaber und ein interessantes Tourengebiet für Bergsteiger mit guten Alpinkenntnissen.
Hiking with children
Hiking with children
Damit Kinder so wie ihre Eltern gerne wandern, muss man sie die Natur als Abenteuerspielplatz entdecken lassen. Kinder wollen nicht mit Ehrgeiz ein bestimmtes Ziel erreichen. Sie wollen über Wiesen laufen, an Bachufern Dämme bauen, auf kleine Felsen klettern oder - mit ausreichendem Abstand! - die Almtiere beobachten. Für Wanderungen mit Kindern braucht man vor allem Zeit, Geduld und ein bisschen Erfindungsgeist. Dann merken ihre Kinder bald, wie spannend wandern sein kann.
Fall hike Leitenkamersteig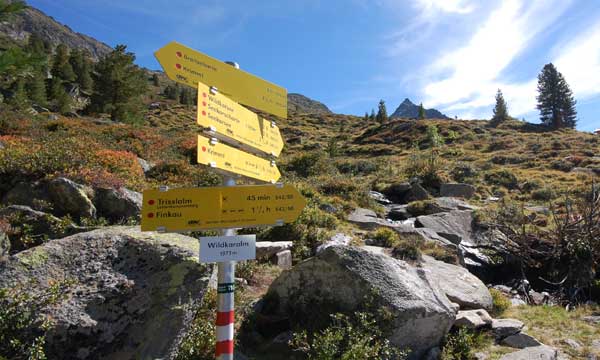 The trail offers views of the Reichenspitz mountain range and passes alpine pastures and forest
Fall hike Leitenkamersteig
Gerlosplatte - Leitenkamersteig - Trisslalm - Finkau
Ausgedehnte Wanderung mit landschaftlichen Höhepunkten, zuerst auf breitem Schotterweg bis zum Leitenkamersteig, danach über gut markierten, schmalen Steig vorbei an Felsen und Zirben zur Wildkaralm, relativ steiler Abstieg durch ein Waldstück zur Trisslalm, von dort gut ausgebauter Weg über Leitenkamerklamm zum Alpengasthof Finkau.